i took some time out last night to finally run through the spring/summer 2010 ready to wear catwalk collections. there were some beautiful items, lots of lovely details and embellishments, but what surprised me most were the similarities between lots of the collections. there are some really definite trends coming across this season. i also have a feeling that designers are not betting on the warmest of summers next year with leg warmers, socks and gloves making an appearance! on the other hand i was surprised about the amount of leg on show, so perhaps we will need the leg warmers to keep us warm! trousers hardly appeared in the collections at all.

these are the trends and looks that really caught my eye.


there was a very strong colour palette that led through nearly all of the catwalk shows. Key colours were black, grey, nude, blue (ranging from bright to baby blue) turquoise and orange. orange was the most used accent colour across all of the shows and didn't surprise me too much as coral was such a hit last year, it was a natural progression. there was also the occasional glimpse of red which i feel will make it's way into a/w 2010 collections.

these are the 6 main styles i picked up on...


whether it was a see-through top, skirt or socks, sheer was a key element of the collections. cut-away pieces also enhanced this look and were seen on casual tops right through to red carpet glamour.


seen mainly on office wear looks, suits were cleanly cut and monotone giving out a sophisticated, elegant feel.


draping fabric was by far the most used element on the catwalks. ranging from cowl neck tops, to layered draping dresses even to the occasional harem pant – the key to this look is using lots and lots of soft, flowing fabric.


a beautiful look, body con was featured in almost every designer's collection. a very strong, striking look that is less 80's in styling than we have witnessed so far. it will have all of us toning up at the gym in preparation for the summer months!


normally reserved for autumn/winter collections, the gothic look was very apparent on the spring/summer catwalks. leather accessories, gloves, belts were teamed with leather skirts and jackets to give of a very strong look. teamed with bold eye shadow and embellished graphic prints this look will be key next year.


this look is probably the most publicized look i have read about. it has renewed the look famed by designers nearly 20 years ago where corsetry and an lingerie look was designed to be worn on the high street. i'm sure this look isn't for everyone, but it can be toned down, maybe a beautiful camisole top can be worn underneath a long cardigan so you just get a tiny glimpse of the lingerie look. a very sexy, romantic trend.


bows, diamantes, beads and fringing all were key embellishments in this years collections.



there was so many graphic prints on show this season ranging from vibrant, eye-catching patterns to more minimalist monotone stripes.


plaid played a key part in the s/s 10 collections forming the basis of casual wear – a trend that is continuing on from a/w 09


there was not too many surprises with bags this year. they ranged from the standard hobo to clutch bags and everything in-between. nearly all of the bags were made from leather.


the shoes displayed on the catwalks surprised me greatly. maybe it's another sign of the ever-changing weather but there was a lot of peep-toe ankle boots on show. platforms had ankle straps and stilettos were replaced with a much chunkier heel. s/s 10 also showed us different accessories to wear with our shoes - sheer ankle socks and over the knee leg warmers made an appearance from a few designers and looked great teamed with the short, short skirts on show. the clear heel also made quite a few appearances, but that is the first and last time we will mention that (eww... horrible!)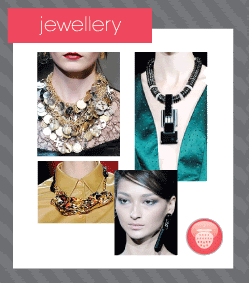 jewellery was chunky and bold and was used to add decorative elements to otherwise plain pieces.
all in all some very nice pieces were shown. nothing too surprising or shocking but this means there are definitely some very wearable looks for us to wear in spring/summer 2010. my tips are to start the waxing early for the short skirts and start the gym workouts now for all the body con pieces. i know that's what i'll be doing!
all images taken from
style.com