this is what i had in mind for my halloween glamour dinner party. i imagine the centre pieces to be the
glittered pumpkins
i placed on my original theme board, with some large church candles burning away. the overall effect is simple and stylish and every piece can be reused throughout the year. after all there is no need to go out and buy a whole new dinner service just for one party, select a few new pieces that you know you will use again and mix this with your existing pieces. as long as the colour scheme is consistent you will be on to a winner!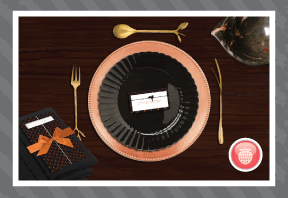 items used
charger plate - any metallic charger plate would do, but search for a orange/rose gold option for the best effect
dinner set - i think a black dinner service would really set this dinner party apart, and this would be a good investment piece as you could use it for countless other dinner parties.
stoneware bowls - i love the idea of using stoneware bowls for the meals. there are some beautiful rustic looking lava stone bowls that can be purchased via the internet.
cutlery - the cutlery set shown is absolutely stunning and so unique. it is priced at £15 per piece and is available from liberty in the uk. i simple chose this piece as it was so different but any golden cutlery set would look amazing.
napkins - i think a simple black linen napkin would be best (and again could be used for almost any occassion). tie a orange satin ribbon around each napkin to pull the theme together (you also get a sneak peak of the stationary here too!)